Tim Pendry

is the Founder and Director of EXARO News.
LINKS & Resources
http://order-order.com/2013/05/07/this-wont-be-on-labour-leaflets/
http://tamesidecitizen.blogspot.co.uk/2013/06/you-wont-be-seeing-this-on-labour.html
"Stuart Hall, fresh from filming a new Walkers Crisps advert in Africa with Gary Lineker, received a telephone call this week from old friend Lord Pendry, the former shadow sports minister.
'Tom rang me to say he had a strange request from a newspaper to contribute to my obituary,' said Hall. 'How about that?' "
"Stuart Hall: I spray words about like a machine gun. If people say they love it, I embrace them and say: 'Welcome, fellow nutter'"
http://www.dailymail.co.uk/sport/football/article-1262909/Stuart-Hall-I-spray-words-like-machine-gun-If-people-say-love-I-embrace-say-Welcome-fellow-nutter.html
http://tamesidelabour.blogspot.co.uk/2013/06/stuart-hall-and-tameside-labour-close.html
http://www.theguardian.com/politics/2006/mar/20/partyfunding.uk
http://liberalconspiracy.org/2008/01/22/a-new-coalition-on-prostitution/
http://www.dailymail.co.uk/news/article-2319212/Stuart-Hall-BBC-predators-2million-home-handed-wife-protect-fortune.html
http://2.bp.blogspot.com/-625fVMNioKI/Ucl9aH8s0_I/AAAAAAAAAGY/IuRFKnF-VFs/s1600/stuart-hall-tom-pendry-its-a-knockout.jpg
http://3.bp.blogspot.com/-cqCUC3WDE5g/UL_wMY37_dI/AAAAAAAAAEw/tCJygZmAl3g/s1600/te1+001.jpg
https://hat4uk.wordpress.com/2013/05/07/the-paedofile-stuart-hall-references-to-parliamentary-accomplice-add-grist-to-westminster-paedophile-mill/
http://thecolemanexperience.wordpress.com/2013/05/05/paedophile-stuart-hall-tom-pendry-and-the-obscene-epitaph/
http://www.dailystar.co.uk/news/latest-news/312871/Stuart-Hall-was-part-of-paedophile-group-including-House-of-Lords-member
https://twitter.com/ciabaudo/status/467565672902701056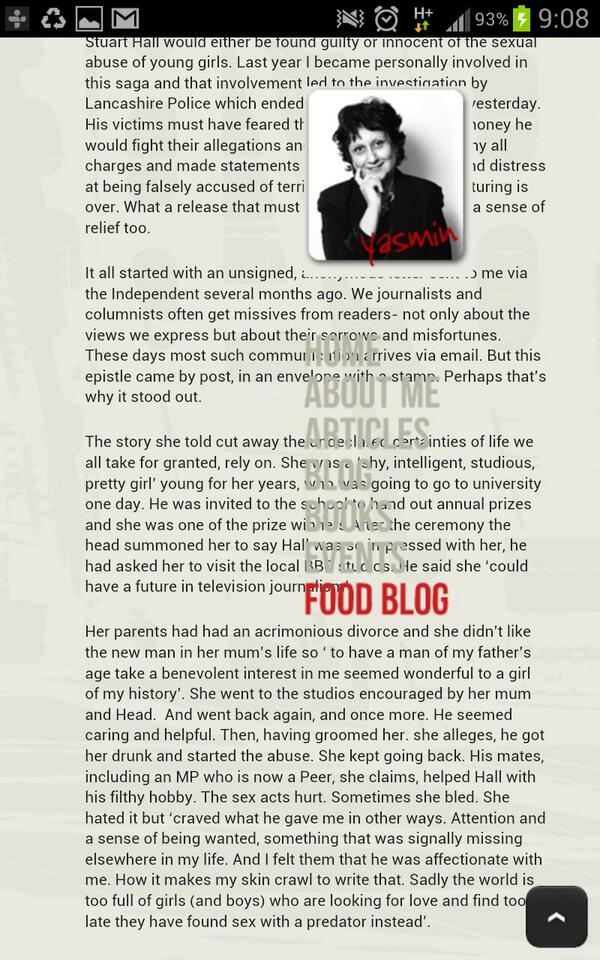 It is presumed that many of Hall's victims were from the Tameside area as he lived in Stalybridge at the time of the attacks. One of the victims that decided to waive her anonymity, Susan Melville, was just fifteen herself when she was groomed by Hall after presenting a prize to secondary school students at Longdendale High School.
http://tamesidelabour.blogspot.co.uk/2013/06/stuart-hall-and-tameside-labour-close.html
http://www.dailystar.co.uk/news/latest-news/326261/Stuart-Hall-s-wife-to-leave-uk
http://www.express.co.uk/news/uk/518375/Stuart-Hall-home-knock-100-000-value
http://tamesidelabour.blogspot.co.uk/2013/05/tom-pendry-and-stuart-hall.html
5 comments:
Early day motion 307
http://www.dailymail.co.uk/news/article-468264/Millionaire-rapist-invited-gala-dinner-Labour.html
Millionaire rapist invited to a gala dinner by Labour
by JANE MERRICK
Last updated at 11:04 14 July 2007


Read more: http://www.dailymail.co.uk/news/article-468264/Millionaire-rapist-invited-gala-dinner-Labour.html#ixzz3KJttYwbD
Follow us: @MailOnline on Twitter | DailyMail on Facebook
http://www.debretts.com/people-of-today/profile/2672/Thomas-%28Tom%29-Pendry-PENDRY
Thomas (Tom) Pendry PENDRY
BIOGRAPHY
Career
electrical engr; Nat Serv RAF 1955-57; joined Lab Pty 1950, NUPE official 1960-70, memb Paddington Cncl 1962-65, chm Derby Lab Pty 1966; MP (Lab) Stalybridge and Hyde 1970-2001, oppn whip 1971-74, a Lord Cmmr of the Treasy (Govt whip) 1974-77 (resigned), Parly under sec of state NI Office 1978-79; oppn spokesman: on NI 1979-81, on overseas devpt 1981-82, on devolution and regnl affrs 1982, on Sport 1992; shadow min for sport and tourism 1992-97; chm: All-Pty Football Gp 1975-92, PLP Sports Gp 1984-2013, All-Pty Tourism Gp 1997-2013; co-chm All-Pty Jazz Appreciation Gp; pres Football Fndn 2003-, chm Football Tst 1998-2003, steward Br Boxing Bd of Control 1987-2003; RAF Far East boxing champion 1956, colonial middleweight boxing champion Hong Kong 1957, boxed for Univ of Oxford 1958-59; Freeman Borough of Tameside 1975, Lordship of Mottram in Longdendale 1975 (granted by Tameside Borough Cncl to commemorate services as an MP for 25 years)
https://hat4uk.wordpress.com/2013/05/10/breaking-stuart-hall-bill-roache-and-owen-oyston-linked-to-top-tory-dirty-tricks-history/
http://aangirfan.blogspot.co.uk/2013/06/jimmy-savile-child-murderers-top-people.html
Anon said...
Great article. In light of this, let's not forget that Baron Tom Pendry, close associate of ... Stuart Hall and convicted rapist Owen Oyston, had a secret 5-hour meeting with Ian Brady :- http://www.highbeam.com/doc/1P2-1726404.html on
http://news.google.com/newspapers?nid=2507&dat=19891005&id=khk1AAAAIBAJ&sjid=Q6YLAAAAIBAJ&pg=3068,1153468
https://opencorporates.com/officers/58329975
On 11 Sept 2009 Tim Pendry, Founder of EXARO, confirmed Lord Thomas Pendry is his UNCLE.
http://order-order.com/2009/09/10/who-will-ask-the-prime-minister/
583

oooOOOOOOooooo – get you!! You're new here aren't you??

Get with the programme – ie this is the last place on Earth, for now, where you can voice an opinion, tell some truths and have a laugh at the same time.

You're not the son of Tom Pendry are you?

As my offspring often tell me and which I advise you to do Tim:
"lighten up *joik" (*jerk with a Brooklyn accent in case you didn't get that either).

Love and peace whatever

708

Sukyspook.

He's my uncle and a good man too even if his politics are not mine!

As for getting with the programme, maybe I get a kick out of baiting useless ranters in the forlorn hope that a thought might connect some neurones and they might actually start to THINK.

Anyway, I feel vindicated – that Nice Mr. Dale has decided to raise the issue of compassion on his much nicer Blog. I do hope the equally 'nice' Mr. Cameron can hold down his troglodyte wing if he crosses the threshold of Number Ten.
The Truth is better reflected in the comments directed at Pendry below:
190
479

526

560

Err…you just did, Mr Pendry
EXARO Tim of The Occult, as I like to call him, then goes on to say a revolution is long over due,
524
279

I take back everything I posted in my reply to you.

Labour. Using other people's misery to make a political point.

Tim Pendry, you are a hypocrite!

540

No, I'm not. That is one thing I am not and never have been. You clearly have no historical understanding of precisely the role I played in politics in the mid-1990s – you are probably not interested enough but if you want the truth and not the surmise, go to Lobster back issues bla-di-bla …

For the record, I have not been a member of the Labour Party since 2001 or thereabouts. It died ethically in 1996.
Here he is telling us about how "witchhunts are created" (isn't that what Satanists do?)
537
Be careful Timmy you might just let the cat out of the bag, you know the one about the British people having been set up for a fall / fool all along. ORDO AB CHAO, THESIS, ANTI-THESIS, SYNTHESIS or is it PROBLEM, REACTION, SOLUTION...?
QUIZ: Why are these two photos placed side by side? Yeah sick isn't it...